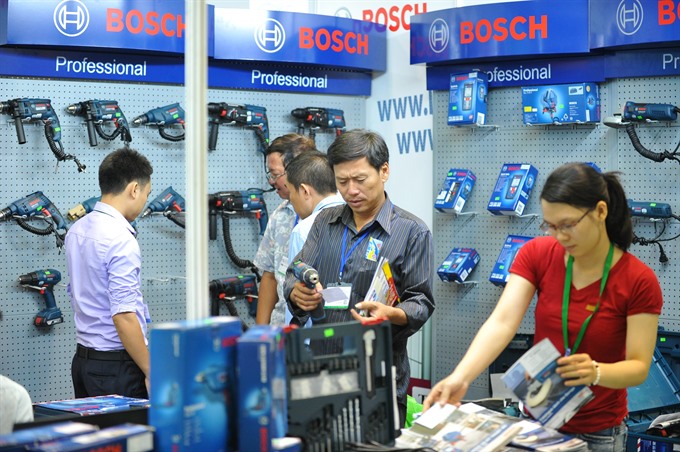 Visitors at the Việt Nam Hardware and Hand Tools Expo 2016 held in HCM City. — Photo thoibaotaichinhvietnam.vn
Viet Nam News
HÀ NỘI — As many as 250 enterprises from 20 countries and territories will participate in the Việt Nam Hardware and Hand Tools Expo 2017, organised from December 6 to 9 this year.
The expo will be held at the Saigon Exhibition and Convention Centre (SECC) in HCM City.
The event will be organised by the Việt Nam National Trade Fair and Advertising Company (Vinexad) and supported by the Việt Nam Association of Mechanical Industry (VAMI) and the HCM City Association of Mechanical-Electrical Enterprise with the aim of increasing opportunities for Vietnamese people to access to hardware and handy products.
Spreading over an area of 5,000sq.m, the expo will focus on both the manufacture of hand tools and introducing these products in daily life. It will also act as a platform for cooperation and exchange between buyers and sellers and provide an overview of Việt Nam's hardware and hand tools industry for local enterprises.
The exhibition will also focus on several main sectors, including Tools-DIY (Do It Yourself) and Building Hardware-Fasteners-Securities, Locks and Fittings, along with special commercial programmes and seminars aimed at promoting and developing products.
Till date, 87 per cent of the exhibitors that attended last year's event have confirmed participation at this year's expo. — VNS

Read more at http://vietnamnews.vn/economy/393949/hcm-city-to-host-hardware-hand-tools-expo.html#YrSrzM63Bb1ys2mt.99